Registration
Select your race below by clicking its "Register" button.
Race Day Timeline
6:30am
---
7:30am
---
8:30am
---
9:30am
---
Marathon starts
---
Half Marathon starts
---
5K starts
---
Kids Fun Run starts
---
Packet Pick-Up
Details coming soon!
Bibs and Timing
All participants will receive professionally timed results. We will be utilizing the b-tag timing chip, which is attached to the back of your bib. Your bib must be visible and worn at all times to receive a final time. Your timing tag will activate and start once you cross the start line timing mats.
T-Shirts
All Marathon, Half Marathon and 5K participants will receive a technical fabric t-shirt. Tees are available in both men's and women's sizing. We will make every attempt to ensure you receive the size t-shirt you selected during registration. Size exchanges can only be done post-race.
Hydration Stations and Restrooms
There will be several water stations and portable toilets available along the course located approximately every 1.5 miles. On course support will also include an electrolyte replacement drink, orange slices and Honey Stinger organic gels.
Awards
All finishers will receive a medal!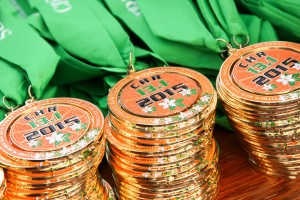 Age Division Awards
Marathon and Half Marathon only
Awards will be presented to the top 3 M/F finishers in the following USATF recommended divisions:
(14 and Under, 15-19, 20-24, 25-29, 30-34, 35-39, 40-44, 45-49, 50-54, 55-59, 60-64, 65-69, 70-74, 75-79, 80-84, 85-89, & 90+).
Overall Awards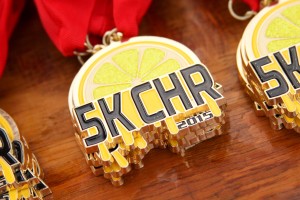 Top M/F Full Marathon finishers
Top M/F Half Marathon finishers
Top M/F 5K finishers
*Overall winners will be excluded from age group awards.
Post-Race Festival and Beer Garden
Enjoy shopping and sampling in our post race festival! There will be several vendors showcasing the latest in sports apparel, health and nutrition, and sampling food and drink items.
To become an exhibitor please email: info@sparkswoodevents.com
Participants 21 and over are invited to enjoy one free beer at the beer garden located on Gibson Street.
*Must be 21 to enter the beer garden and present a valid ID
Results
All results will be posted online on our Photos and Results Page at the conclusion of the event.
Text Messaging: Participants will be able to have their results texted directly to your phone. Link coming soon!
Race Photography
Wear bibs on the outer most layer of clothing and SMILE as you cross the finish line. Photographers will be there to capture the fun throughout race day! Photos will be emailed to participants approx. one week post race and posted on the Photos and Results Page